July 1st, 2013
Germ Z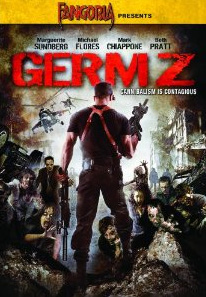 Director: Michael Oblowitz
****
DVD
Directed by John Craddock, J.T. Boone
Written by J.T. Boone
Starring Marguerite Sundberg, Michael Flores, Mark Chiappone
NR
2013
85 mins
I have to admit, seeing titles come out of Fangoria again was a bit of a treat. I remember most of the Fangoria Frightfest fondly, so seeing titles with the Fango name left me pretty happy. So I settled in with a copy of "Germ Z" just to kick things off.
"Germ Z" is pretty much explained by the box art. Once a satellite --formerly in low Earth orbit--heads to plain old low Earth after being hit by a meteor, the first responders--not to mention the folks in the surrounding area--find themselves playing host to a germ that turns them into nightmarish, vicious cannibals. Those not affected by the germ, meanwhile, find themselves in a deadly cat and mouse game not only with the germ, but also with the now-infected cannibal types. So in a bid for survival, the uninfected are out to find a way to keep the germ contained, as well as get out alive, before the rest of the world ends up looking like this particular little burg.
If it sounds familiar, it's because for many it probably is. It's essentially the plot of "Night of the Living Dead," compressed and ratcheted up. But it's still surprisingly fun; there are so many separate elements looking to collide in this little package that it just screams disaster. It's like that "Calvin and Hobbes" strip where a train jumps the rails, a plane loses its engines, there's a crevasse opening up and a gas leak, all converging together on one particular farmer's house. He's just about to light a match when he notices all that stuff descending on his house. The strip ends with Calvin pronouncing direly "His eye twitches involuntarily," and Hobbes wishing the two could "play something else."
But there's no denying that what will be presented here is easily one of the most bombastic, exciting, and often scary zombie films that has been put up in some time. That's extraordinary for a zombie movie, and frankly, it's a little out of the ordinary for most any movie of any type in some time. If you're looking for a zombie movie that's every bit a match for Romero at his best, then "Germ Z" is going to be a great place to look.
The ending is a little on the inconclusive side, but given the nature of the movie, that's par for the course. Zombie movies seldom end so much as stop--they're setting up the end of the world, after all--and this one proves to be no exception.
Special features include audio options, your choice of English or Spanish subtitles, and trailers for "Axed," "Inhuman Resources," and "Germ Z," though the first two won't be accessible from the DVD menu. It's odd that there was no trailer for "Entity" here, but it is what it is.
"Germ Z" will bring an exciting package to the table, a shot of zombie movie that's head and shoulders above what we commonly find, especially in the subgenre. I can only hope that the rest of Fangoria's lineup turns out anywhere near this good.