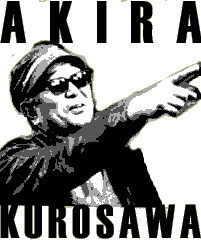 By Alex Kidd

Let me start out my take on Akira Kurosawa with a little story from my youth.
In 1994 I had my first taste of bitter poverty, living my aunt for the summer in a Missouri backwoods, one-cow town.  Just 14 years of age, my entertainment at that time consists mainly of two separate but equal camps: Nintendo and film.  (Sex, skateboarding, drugs and guitar were still a few years off on the horizon.)  My aunt, too poor to cough up the scant few bucks it cost to rent a movie, opted to instead drop us off at the local library where the movies and books were free, dusty, and out of date.
Little did I know what a great gift this lack of modern cinema had brought upon me.  Instead of watching shitfests like Mario Brothers or It's Pat, I was exposed to the likes of Citizen Kane, Some Like it Hot, and The African Queen.  Did I know that these were all cinema classics that I should worship and drool over?  Hell no, all I knew was that watching an old, black and white film was better than having to sit through another one of my aunt's long winded stories any day of the week.  Sure, there were some woofers in there as well like Ernest Goes to Camp and the collective works of Benji, but for the most part it was all Hollywood gold. 
After watching every single Hollywood movie (sometimes I would sit through 2 or 3 a day) that the malnourished library had to offer, I was left with two choices: Dorf Goes Auto Racing and an odd looking Japanese flick titled The Seven Samauri.  Well, I picked the Dorf movie, but then again I was only 14 and as every kid knows: Midgets + Cars = Hilarity.  Besides, the Japanese movie was a whopping 3 hours long and subtitled.  Subtitles are like the kiss of death for movies when it comes to young teenagers.  Hell, if I wanted to read then I would have checked out one of those books long ago. But now I had no choice, I had to check out the Samauri movie. Time to bite the bullet.
The big surprise was that within fifteen minutes of pressing play I was riveted to my screen.  Being 14 and all I didn't quite understand why I enjoyed this movie so much, all I knew was that it kicked some serious ass.  I didn't comprehend Kurosawa's masterful use of space, his complex, conflicted characters, his wonderfully choreographed action sequences. I just wanted the Samauri to win, the bandits to lose, and the villagers to live happily ever after. When the movie was over it seemed like 3 hours had passed in half an hour.                    
And that's part of the genius behind Kurosawa.  Unlike some directors who feel like they need to hit you over the head with a titanium sledgehammer to show how great they are, Kurosawa's cinematic brilliance is transparent.  He doesn't have to make grand statements to prove himself.  Rather, he lets his workmanship speak for itself in the nuances of his films, like the ways the actors contort their faces or the how he uses camera angles to balance out the scenes.  His ingenuity is so unobtrusive you hardly know it's there, yet in the end you always feel like you've just watched another great Kurosawa film. 
So who exactly is this Kurosawa cat anyway?  First of all, he's probably the most well known Japanese director of all time, at least in the West.  He's been the architect behind a quintessential collection of materworks that every movie buff worth his weight in DVD's know, including but not confined to Red Beard, High and Low, Ikiru, Yojimbo, Throne of Blood, The Hidden Fortress, Rashomon, and of course, his magnum opus, The Seven Samarui.  Even his bad films, like Drunken Angel and Sanjuro, are worth checking out, if only to catch a glimpse of a mastermind on his off day.  Rashomon, his meditation on the subjectivity of reality, was the flick that broke him through to the West and made him into the really, really big figure that he is today, yet in Japan the movie went widely unnoticed.  Like many Japanese directors that are worshipped outside of their home country, Kurosawa is seen as just another director by his own people.
Why is this? Probably because, unlike his contemporaries, his style is seen as distinctly "Western" and therefore inaccessible to most Japanese audiences.  During the golden age of Japanese cinema, when Ozu was directing minimalist films with static camera angles and Mizoguchi was making 30 different variations of the same snoozefest story (the Japanese woman in peril), Kurosawa was forging new groung and making kickass flicks that dealt with contemporary Japanese predicaments (the everlasting conflict between traditional and modern, the fatalist preoccupation of the Japanese populace, etc.), filtered through a "Westernized" window that let the rest of the world peer onto Japanese stories and aesthetics.  He was definitely a free thinker in what was at the time a very conformist Japanese society.